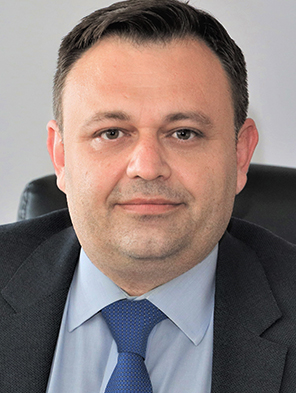 Evangelos-Apostolos Konstantinou
Special Secretary for the Coordination of Stakeholders
Evangelos Kostantinou is an economist.
He graduated with a bachelor's degree from the Department of Economic Sciences of the National and Kapodistrian University of Athens in 1999. He also holds a Master of Science Degree in Financial Management and Control from Aston Business School in the United Kingdom.
He began his career as a communication specialist in 2003, working for the company MWG POLITICS , which is part of the McCann Erickson multinational group. He then worked as an independent Consultant managing communication policy issues for companies and individuals. In June 2012, he was appointed as the Office Director of the Deputy Minister of Development and Competitiveness and was responsible for strategic and private sector investments, public and private partnerships, exports, as well as international trade relations.
He was assigned as the Head of the newly founded Institute of Technical Chamber in 2018, where he collaborated with the Fund for Engineers and Contractors. He has been a member of the Management Board of the Export Credit Insurance Organization. He served as Director of the Single Fund of Auxiliary Insurance and Lump Sum Benefits and the Vice President of the Management Board of the EDEKT S.A. Since February 2020, he is the Special Secretary for the Coordination of Stakeholders.