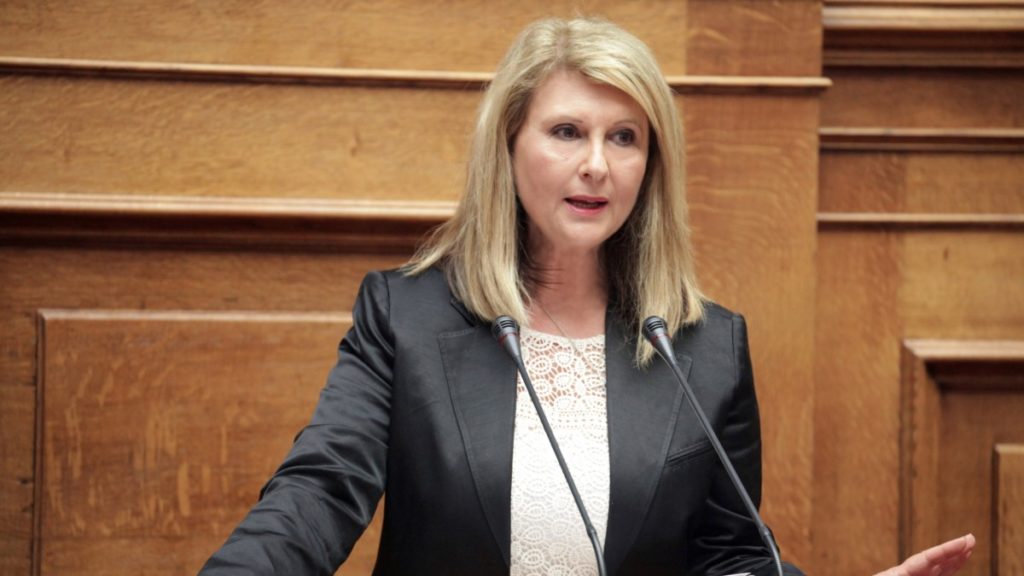 Deputy Minister of Migration and Asylum in charge of Integration
Member of the Greek Parliament, New Democracy
Parliamentarian activity:
• Served as President of the Special Permanent Committee on Equality, Youth and Human Rights and • Of the Subcommittee for people with disabilities and • Of the Subcommittee against Human Trafficking • Served as Member of the Standing Committee on Economic Affairs • Served as Member of the Economic, Commercial, Technological and Environmental Affairs Committee of Parliamentary Assembly of the Black Sea Economic Cooperation –PABSEC. • Elected Member of the Hellenic Parliament (from 2004) • Served as Parliamentary Spokeswoman of the New Democracy Party (2012 until June 2014) • Served as Secretary of the Parliamentary Committees for National Defense, Foreign Affairs, Macedonia-Thrace and Aegean regions. • Served as Delegate of the Parliamentarian Assembly of the Organization for Security and Cooperation in Europe –OSCE.
Σπουδές: Νομική Σχολή Εθνικού και Καποδιστριακού Πανεπιστημίου Αθηνών (Τμήμα Δημοσίου Δικαίου και Πολιτικών Επιστημών). Υπότροφος του Κρατικού Ιδρύματος Υποτροφιών.
Ξένες Γλώσσες: Αγγλικά, Ιταλικά, Γαλλικά. Απόφοιτος (και υπότροφος) της Ιταλικής Σχολής Αθηνών. Δίπλωμα ειδικότητας στην Ιταλική Γλώσσα και Λογοτεχνία.
Education:• Athens University Law School (Public Law and Political Science –Section) scholar and graduate. • Athens Italian School, Italian Language and Literature, scholar and graduate, Diploma.
Language Skills:: Διεθνής Πολιτική, έρευνα, συνεντεύξεις, αναλύσεις και ρεπορτάζ.
• English, Italian, French
Professional career:
• Journalist with long career in daily newspapers and magazines. • Editor-in-chief in daily newspapers as well as radio and television programs. • Fields of expertise: International Politics, research, interviews, analysis and reporting. • Director of the "Eleftheri Zoni" (Free Zone) daily web newspaper (2010 until 2014).
Significant assignments:
• Assigned participant in international Press delegations to all European countries (Western and ex-Eastern countries), USA, Russia, Asia, Africa. • Assigned correspondent in conflict areas of the Middle East, Kuwait, Bosnia, Sahara. • Covered as reporter among others, the fall of Ceausescu regime in Romania and the fall of the Berlin Wall. • Appointed by the Executive Board of the Athens Daily Newspapers´ Journalists Union to investigate the conditions of the Kurdistan Workers' Party leader Abdullah Öcalan trial press coverage in Moudania island, Turkey.
Συνδικαλιστική δραστηριότητα: Έχει διατελέσει μέλος του Διοικητικού Συμβουλίου της Ένωσης Συντακτών Ημερησίων Εφημερίδων Αθηνών, μέλος του Μορφωτικού Ιδρύματος, του Μικτού Συμβουλίου και Πρόεδρος της Εφορευτικής Επιτροπής της ΕΣΗΕΑ.
Other offices:• Consultant in Prime Ministers' Press Office (1990 until 1993), • Board Member of the Greek National Broadcasting Council (2000 until 2002),
Trade Union activity::
• Elected Member of the Executive Board of the Journalists' Union of Athens Daily Newspapers –JUADN, • Member of the Cultural Institution of JUADN, • Member of JUADN Joint Boards, • President of JUADN Election Committee.
Personal:
Πρόεδρος της Ειδικής Μόνιμης Επιτροπής για τα Άτομα με Αναπηρία.
• Married, with two children. • She is the daughter of the late journalist John Voultepsis who had revealed and investigated the case of the assassination of Parliamentarian Grigoris Lambrakis, later to be known as "Z" journalist.
Μέλος της Επιτροπής Οικονομικών Υποθέσεων
Μέλος της Επιτροπής Οικονομικών, Εμπορίου, Τεχνολογίας και Περιβάλλοντος της Κοινοβουλευτικής Συνέλευσης του Οργανισμού Οικονομικής Συνεργασίας Ευξείνου Πόντου, όπου έχει διατελέσει αντιπρόεδρος.
Ακόμη, έχει διατελέσει μέλος των Επιτροπών Άμυνας και Εξωτερικών Υποθέσεων, Εξοπλιστικών προγραμμάτων, Μορφωτικών Υποθέσεων, Ευρωπαϊκών Υποθέσεων, Κοινωνικών Υποθέσεων.