Karin Keller-Sutter: "We know that the situation regarding migration has improved seriously in the last months and Switzerland was happy to contribute to this improvement. We believe that we should move forward with those issues on which there is broad convergence, such as border control, common return policy, and asylum procedures."
Meeting of the Minister of Migration and Asylum Mr Notis Mitarachi with the Federal Counsellor of Justice and Police of Switzerland, Mrs Keller-Sutter and the State Secretary for Migration, Mr. Mario Gattiker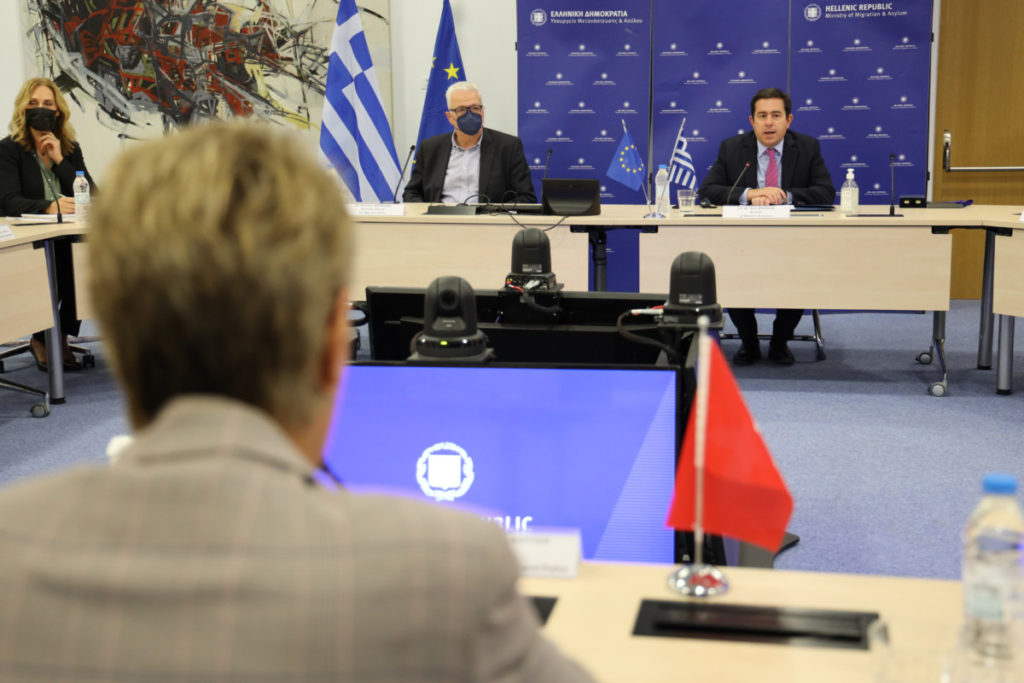 The Minister of Migration and Asylum, Mr. Notis Mitarachi held a meeting today with the Federal Councellor of Justice and Police of Switzerland, Mrs Keller-Sutter, and the State Secretary for Migration, Mr. Mario Gattiker.
The Ministers agreed to continue the close cooperation of the two countries bilaterally but also for creating better conditions in the management of migration at European level.
Mr Mitarachi thanked Mrs Keller – Sutter and Mr Gattiker for Switzerland's support including through its participation in the initiative to relocate unaccompanied minors, and emphasised that Switzerland has essentially stood by our country in recent years and continues to provide its support to front-line countries, such as Greece.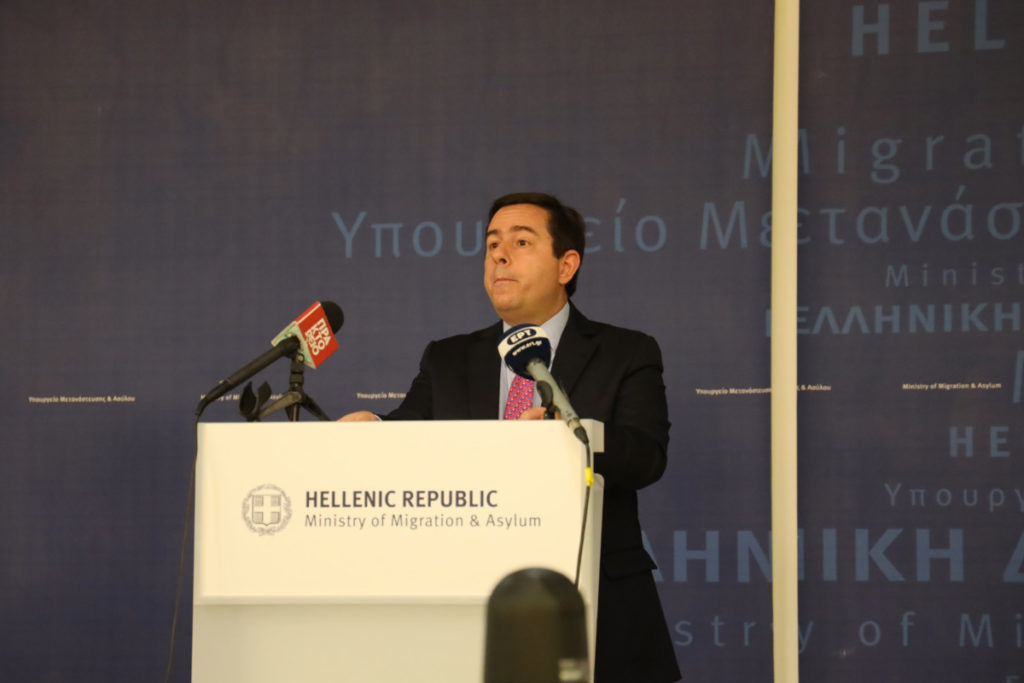 The Minister for Migration and Asylum presented
''the challenges faced by the countries at the external borders of the EU and the Schengen area and the diligent efforts made by Greek authorities to effectively protect the borders and strengthen the sense of security throughout the single European area.'' Thus, Mr Mitarachi stressed that ''as we are talking about a common area of free movement among the Schengen countries, we should also work towards the creation of a common protection and asylum area in Europe.''
Furthermore, the Minister of Migration and Asylum pointed out that
''despite the steps of progress in the case of Greece, the situation remains unstable in the European periphery and, therefore, requires common solutions for a fair, sustainable, and balanced migration management and with targeted actions in the field that we call "the external dimension", namely our relations with third countries.''
Regarding the Migration and Asylum Pact, Mr Mitarachi, informed Ms Keller-Sutter of Greece's positions along with the other members of the Med-5 group, ''emphasizing the need for an agreement that will ensure mandatory and effective solidarity, will make Europe more resilient and will reduce the risk for a new migratory crisis.''
After the meeting the Swiss Delegation will travel to Lesvos to visit the temporary Reception and Identification Centre of Mavrovouni and witness the improvement of the reception and living conditions in the island.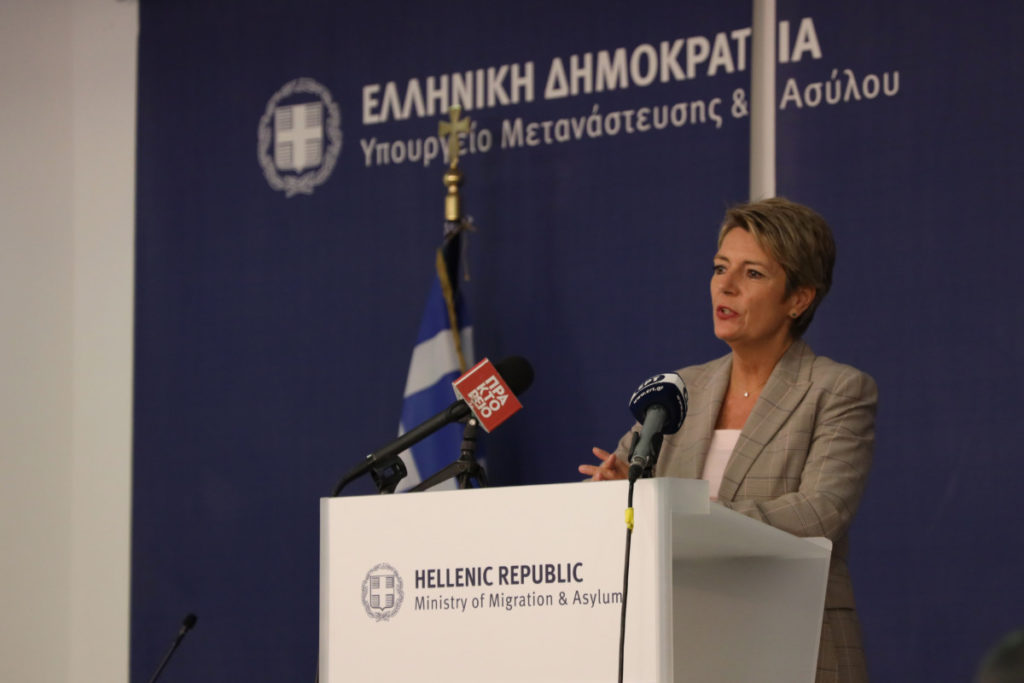 Federal Counsellor of Justice and Police of Switzerland, Mrs Keller-Sutter stated the following:
"Είναι πολύ σημαντικό για την Ελβετία ως μέλος των κρατών Σένγκεν να αποκτήσει εικόνα στον τομέα των εξωτερικών συνόρων. Γνωρίζουμε ότι η κατάσταση στη Ελλάδα όσον αφορά τη μετανάστευση έχει βελτιωθεί σημαντικά τους τελευταίους μήνες και η Ελβετία συνέβαλε σε αυτή τη βελτίωση. Όπως ίσως γνωρίζετε, έχουμε αναλάβει έναν ικανό αριθμό ασυνόδευτων ανηλίκων. Προσπαθούμε να στηρίξουμε με διάφορα προγράμματα την Ελληνική Κυβέρνηση και ιδιαίτερα το Υπουργείο Μετανάστευσης. Η Ευρώπη αντιμετωπίζει ακόμα αρκετές προκλήσεις. Η Ελβετία βρίσκεται στη μέση της Ευρώπης, είναι πολύ σημαντικό για εμάς να κατανοήσουμε τις συνθήκες που βιώνουν οι χώρες που έχουν θαλάσσια σύνορα. Ανταλλάξαμε απόψεις για το νέο Σύμφωνο για τη Μετανάστευση που δεν έχει προχωρήσει αρκετά μέχρι τώρα. Πιστεύουμε ότι πρέπει να έχουμε κοινή αντίληψη για την μεταναστευτική πολιτική στην Ευρώπη. Χρειαζόμαστε πρόοδο, διαφορετικά δεν θα υπάρξει λύση στο μεταναστευτικό πρόβλημα. Η Ελλάδα ως μεσογειακή χώρα εστιάζει πολύ στην αλληλεγγύη. Η Ελβετία πιστεύει ότι πρέπει να προχωρήσουμε με τα ζητήματα, στα οποία υπάρχει ευρεία σύγκλιση, όπως ο κοινός έλεγχος των συνόρων, η πολιτική επιστροφών και οι διαδικασίες ασύλου.''
Δείτε εδώ τις δηλώσεις: https://www.youtube.com/watch?v=e802zx7Dm5I